Expanded Academic Asap- On This Side Asap For Easy Research Access
Expanded Academic ASAPis a collection of journals, magazine, and newspaper articles on topics such as arts and humanities, social sciences, science and technology, and other academic disciplines. Because a large amount of information and research links can be overwhelming and intimidating to its users, they have included side references on its website. You can access some search options on the On This Side Asapreference, where you can narrow down search results by using limiters for more targeted searching.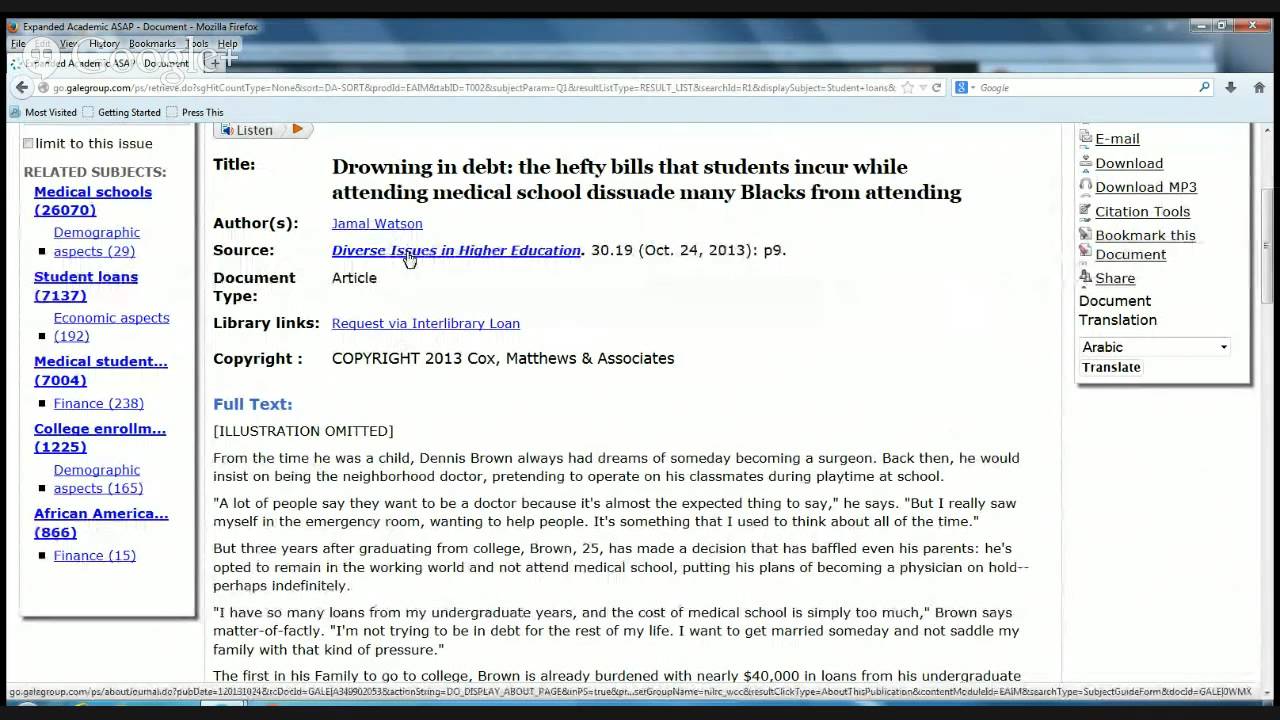 Expanded AcademicASAP is one of Gale's premier research resources for all academic disciplines, with in-depth coverage ranging from advertising, psychology, and historyto microbiology, the humanities, and women's studies. This comprehensive resource, which mixes indexing, abstracts, full text, and multimedia, provides detailed information in a single, seamless search. Expanded Academic ASAP, which is available on the cutting-edge Gale Power Search platform, provides 24/7 remote access to a diverse collection of academic sources. Expanded Academic ASAP contains over 5,300 titles; over 3,000 full-text titles in a wide range of disciplines, including over 3,800 peer-reviewed journals, making it ideal for a wide range of students, faculty, and other researchers. Balanced coverage on a variety of subjects is available through the following aspects
Social science journals

Humanities journals

General interest magazines

Science and technology journals

National and global news sources
View any PDF files that are linked to the article.

Send the article in HTML or plain-text format via email.

Create citations in a variety of formats.

Share the article's link.

Listen to the article or save it as an MP3 audio file.

Print, download, and bookmark the article in one of 11 languages.

Discipline- and issue-specific journals include American Criminal Law Review, Canadian Ethnic Studies Journal, Harvard Law Review, Journal of Southern History, Lancet, Literature Film Quarterly, and Science.

Publications that take a multidisciplinary approach, such as the International Social Science Review.

National news magazines cover everything, such as Newsweek and The Atlantic.

The New York Times is one of the most well-known newspapers in the world.

Several magazines, including Advertising Age, Advocate, Billboard,

Computer

Weekly, and Publishers Weekly.
Learn how to select, access, and search databases for journal articles.
Choose a database that is relevant to your field. Navigate to the

Library

's home page. Select the Databases tab.

The Library has hundreds of databases covering a wide range of topics. Databases have been grouped together by subject to help you focus on the most useful databases for your research.

Browse subjects by scrolling through the Find Databases by Subject drop-down menu. Highlight the subject matter that interests you.

In this case, emphasize English because it is the subject of our research question. Select Find.

A list of databases relevant to your topic will appear.

Reading the database description will assist you in selecting the best one for your research. Prepare to look for more than one if necessary.

A successful search yields a results list that includes references (citations) to documents that match your search criteria.

To search Expanded Academic for only academic journal articles, check the box next to peer-reviewed publications. Before a researcher's article can be published in a peer-reviewed publication/journal, it must be cleared by a team of his/her peers or peer-reviewed. A type of academic journal is a peer-reviewed journal.
Now that you know how Expanded Academic Asap works, The On the Side Asap feature, and what it offers to help you with your research, you will have a good idea of how to search for others, even if they don't look exactly like Expanded Academic. Despite their differences in appearance, most databases have the same basic features as Expanded Academic. So, once you've mastered searching one database, you'll be well on your way to being confident in selecting and searching others.
Share:
Twitter

|
Facebook

|
Linkedin