What Is Expanded Academic Asap?
Expanded Academic ASAP is a collection of articles, journals, magazines, and newspapers in the arts and humanities, social sciences, science and technology, and other disciplines. It contains over 47 million articles from academic journals, news magazines, and newspapers from 1980 up to the present.
It provides an indexing and overview of over 3,000 academic and general journals, full articles from many of those journals available, and the latest 6-month indexing of the New York Times. The database integrates core titles from all major academic disciplines; area and topic-specific journals; Scientific journals applicable to the profession; publications with national coverage and commentary.
Search Assistance provides web-search functionality and recommendations similar to search engine sites like Yahoo and Google.

On-demand language translation includes three newly added languages: such as Chinese, Japanese and Korean.

Enhanced results that include improved relevancy rankings and easy access to filters and limiters.

Improved intuitive advanced searching with Search Assist on the primarily used indexes.

May cross-search Gale holdings such as Gale Virtual Reference

Library

, InfoTrac collections, and other specific In Context resources.

Results include multimedia such as video, images, and podcasts.

Search is within the result lists of target-specific content.

Delivers audio versions of articles and downloadable MP3 files too.

Document management that includes e-mailing, downloading, bookmarking, or printing

User-friendly citation tools facilitate research results.

Discipline-specific titles which include ABA Banking Journal and Journal of Business Communications.

Area and issue-specific journals such as American Criminal Law Review, Canadian Ethnic Studies Journal, Harvard Law Review, and more.

A range of magazines, such as Advertising Age, Billboard, Advocate,

Computer

Weekly, Publishers Weekly, and more.
COPYRIGHT_ELM4: Published on https://elm4you.org/expanded-academic-asap/ by - on 2022-09-18T17:45:32.300Z
Go to www.mymanatee.org/library library's website and click on the orange button "Research & Learning button" and proceed on the Articles, Research & Information button.

Click General and choose the

Expanded Academic

ASAP link. You will be prompted to log in with your Patron ID # (you will see at the back of your card) along with your PIN number.

Please take note that you are not required to create an account but you can do so by selecting Sign in with Google or Microsoft at the top corner of the page. Doing so will allow you to use the My Folder and Highlights and Notes Features of the platform.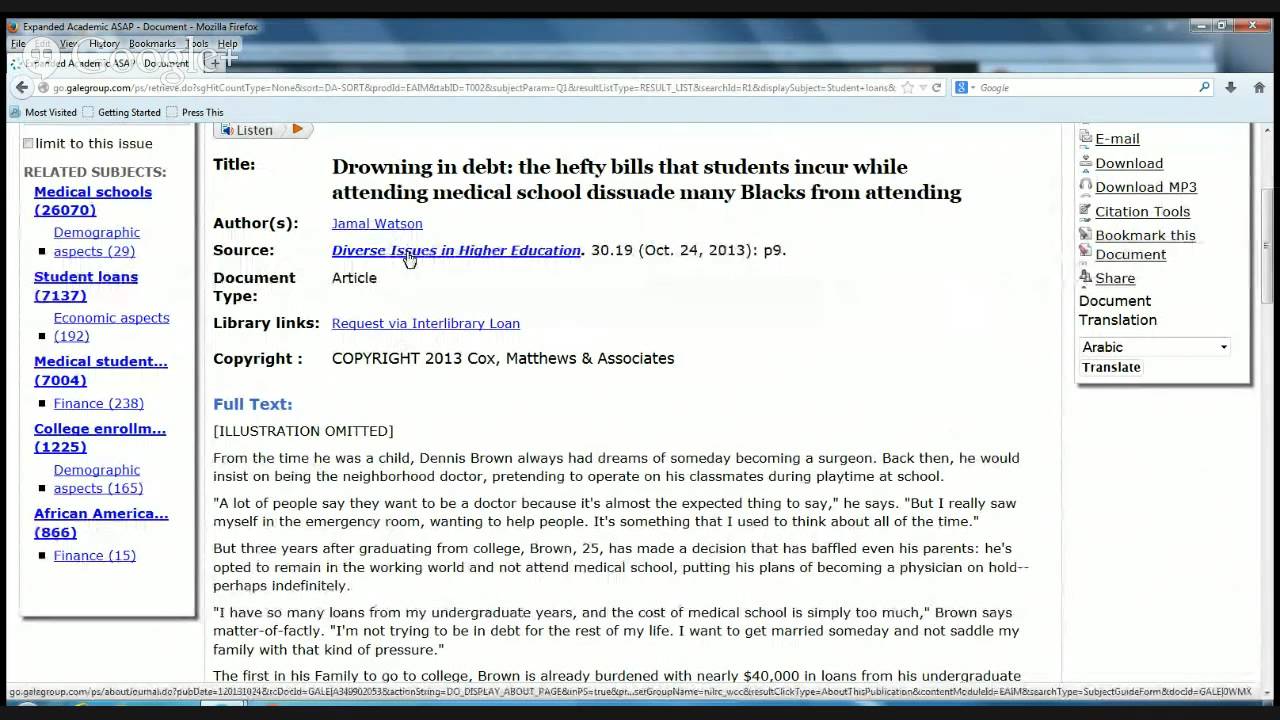 If you want to search for only academic journal articles in Expanded Academic, you may click in the box next to peer-reviewed publications. In a peer-reviewed publication/journal, a researcher's article has to be cleared by a team of their peers, or to be peer-reviewed, before it can be published. Use Expanded Academic ASAP by the following steps:
Typing in your queries in the Search box, Choosing more search options for Advanced Search, Publication Search, or Subject Guide Search, Utilizing the Topic Finder to discover and search other topics related to your search term(s).

The article's web page contains publication information. Search terms are highlighted in red within the article. You can also click the Listen button below the release information to listen to the audio version of the article or download an mp3 recording.

The citation tool allows you to create citations for articles in one of three citation styles. The highlighting and notes feature allows you to create and save annotations within your article. You can access all annotations by clicking More at the top of the page. You can download the article as a PDF, print it, and email it.
The home page offers a variety of search options, including Quick Basic Search. Researchers can easily refine their results by using limiters to perform more focused searches
Expanded Academic ASAP is the only Gale database that needs to have a new URL. Gale directs the old URL to the new platform so users will be able to go to the new Gale interface even if using the "old" URL for access. Thus, users will not be able to get the full benefit of the fixes that come with the platform change until they use the new URL given. We, therefore, encourage the campuses and libraries to update any URLs that are on campus web pages.
Reasons why we need to make the change to the new URL:
The new URL makes access to items via InfoMarks, more reliable for multi-user access, when used in a class web page or reading list. This will resolve the issue of multiple clicks to get InfoMark to work that campuses have reported (a.k.a multiple cookies issue) and result in page to have better access.

Users will now see all databases available for their campus on the database list regardless of their starting point, resolving the appearing/disappearing database issues that some users have experienced when using campus licensed Gale resources.

Search results are now numbered and Usage Statistics are now upgraded.
Expanded Academic ASAP is one of Gale's premier resources for research academic disciplines, offering in-depth coverage of virtually any concentration — from advertising, psychology, and history to microbiology, the humanities, women's studies, and other scopes. We hope that this article provides substantial information for your research journey in Expanded Academic ASAP.
Share:
Twitter

|
Facebook

|
Linkedin