ELM Study Guide That Can Make Your Research More Effective
Traditionally, libraries were always seen as a collection of books, whether publicly available or privately owned. With the technology revolution, libraries are increasingly being redefined whereas ELibrary is now available for easier access to information. One of the available E-Libraries in the present is ELM (eLibrary Minnesota). ELM provides Minnesota residents with access to articles from magazines, journals, newspapers, and encyclopedias, as well as media such as images, videos, audio files, and other information resources.
Though the ELM database is indeed a great way to do research, It can be overwhelming for some. Thus, you don't have to worry as we will discuss in this article the best ELM Study Guide that can make your research more effective.
In order for you to use ELM appropriately, one must know the available databases of ELM and what they can offer. Below is the list of ELM databases.
EBSCO - Text to speech, transcripts for audio and video, alternate text page titles and image descriptions, and access keys for keyboard navigation are some of the accessibility features highlighted by EBSCO. EBSCO also provides a user guide for navigating their interfaces.

Gale - this database provides compliance documentation and supports services.

ProQuest - Its accessibility policy includes compliance with Accessibility

Standards

and Web Content Accessibility Guidelines (WCAG), as well as providing accessibility Conformance Reports for individual products.

Britannica - this database has an accessibility policy that also indicates compliance with Accessibility Standards and the WCAG.

OCLC - the accessibility policy of this database indicates compliance with VPATs for individual products that are available upon request.

PebbleGo and PebbleGo Next - this database highlights support navigation that is simple, intuitive, predictable, and text-to-Speech on all articles. = Documentation from Additional Vendors - this database provides information of several organizations and collate vendor accessibility documentation.
COPYRIGHT_ELM4: Published on https://elm4you.org/elm-study-guide/ by - on 2022-09-18T17:52:02.423Z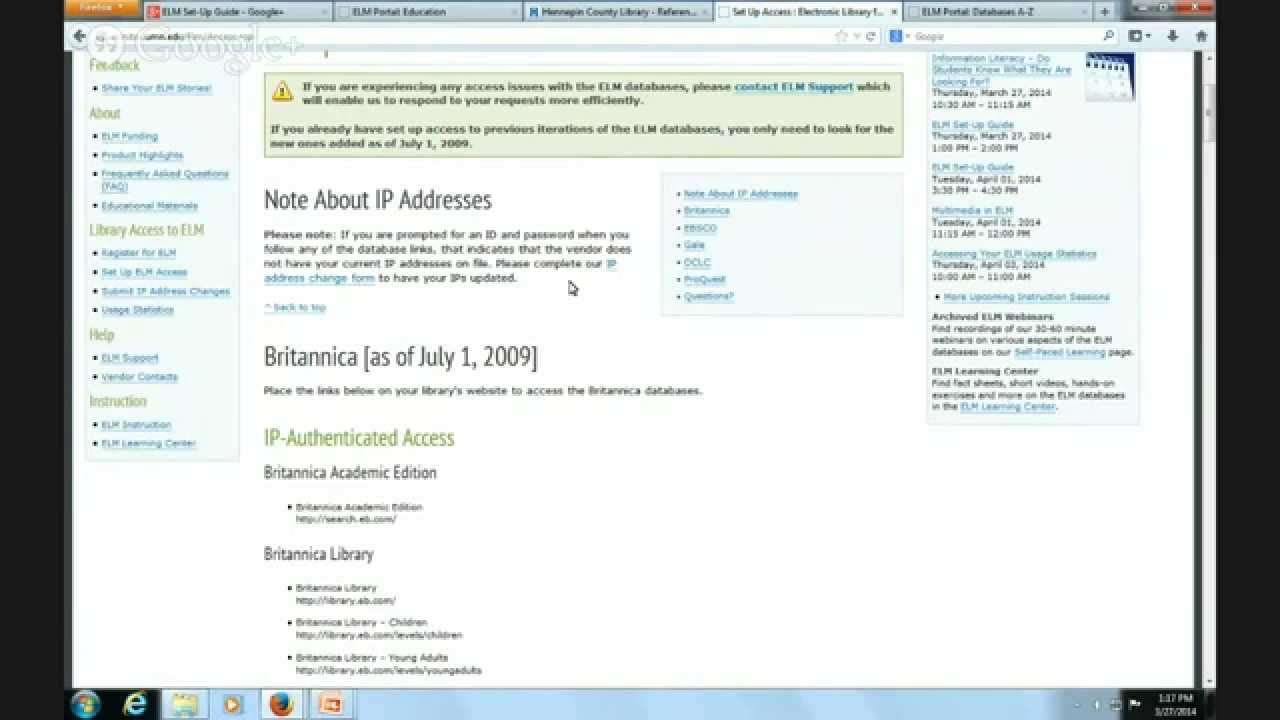 This guide will assist you in beginning your search for a wide range of content, including references, magazines, academic articles, multimedia, primary sources, and much more. Begin your search by going to eLibraryMN.org.
Select

History

Day under and choose a Topic menu.

Select Britannica School.

Type your preferred keywords (search words) in the search box. Now that you have access to reference articles and multimedia, you may start to discover Magazine & Journal Articles.

Select "Gale" In Context: High School (or Gale In Context:

Middle School

)

You will have access to magazine & academic journal articles, and much more.

You will then see a lot of different subjects that are related to your main topic. Click on these links to help you narrow the list of results to a smaller, more focused set. You can also use these words to create other searches in other databases in ELM.

If you want scholarly articles, Choose Academic Search Premier.

Back on eLibraryMN's homepage, Choose Academic Search Premier.

Type your preferred keywords (search words) in the search box.

You may now check Full Text & Scholarly Journals. Now you already have access to full-text scholarly articles.
If you want to learn more about the ELM databases and have more ELM study guide, you may complete the ELM Instruction Request Form available on the ELM website or reach out with questions at elibrarymn.org/contact. Furthermore, ELM employs a train-the-trainer model to help you encourage and empower your colleagues and patrons to use these amazing free resources. They can provide tips about how to find quality resources for your own professional and personal use. We hope that this article will help you with your research and study using ELM.
Share:
Twitter

|
Facebook

|
Linkedin